School of British talent to get BAFTA gong
In a leafy Buckinghamshire village is one of the British film industry's best-kept secrets.
Since opening in 1971, the National Film and Television School (NFTS) in Beaconsfield has trained some of the world's most successful filmmakers.
Alumni include Oscar-winning animator Nick Park (Wallace And Gromit), BAFTA-winning directors Sarah Gavron (Suffragette) and Lynne Ramsay (We Need To Talk About Kevin), and award-winning cinematographers Charlotte Bruus Christensen (Molly's Game) and Roger Deakins (No Country For Old Men).
Amongst them, the school's graduates have won an impressive 132 BAFTA awards, 10 Oscars and 49 Oscar nominations for their feature-film work.
And now NFTS is to receive a gong of its very own; a BAFTA for its Outstanding British Contribution to Cinema.
NFTS director Jonathan Wardle told Sky News: "It's amazing. There's a real sense of pride that this place which puts such a tremendous amount of emphasis on doing things the right way, to the right quality, is being recognised by the industry."
The school credits its success to a diverse post-graduate curriculum that offers dozens of behind-the-lens film courses and encourages hands-on, collaborative learning.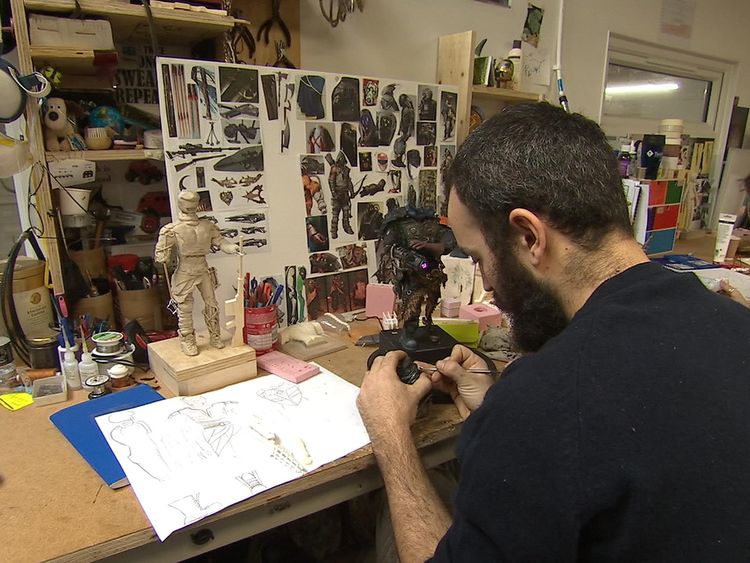 It also has industry-insiders on its teaching staff, like Oscar-nominated writer, producer and director Alex Garland (Ex-Machina, 28 Days Later).
Garland told Sky News: "What the school does is it creates communication between different departments and an understanding [that] the success of the individual is based on a collective success."
Regular group projects bring students from different disciplines to work together.
The school's latest student film is a horror called The Good Samaritan, which was staged and shot in a warehouse on the school campus.
Student Theo Boswell, who is on a two-year course in production design, designed and built the set, inspired by German gothic architecture, and says it's inspirational to know that previous alumni have gone on to enjoy successful careers in the industry.
"I think with each term of the course you begin to feel more confident that you'll be able to do something like that," Boswell, told Sky News. "It feels more possible, tangible."
NFTS class sizes are kept deliberately small and to get a place at the school is highly competitive. But numerous bursaries and scholarships are available which encourages applications from a diverse-range of backgrounds.
NFTS will receive its award at the British Academy Film and Television Awards ceremony on Sunday, 18 February.